We are pleased to announce that 2020 Exhibits was recognized by the inaugural World Exhibition Stand Awards as winners across three categories, including Best Stand, Aviation; Best Stand, Security Event, and Best Stand Energy Event. The awards celebrate the experiential, architectural and creative innovation of nearly 100 exhibition stands at trade shows and events around the world.
Best Stand / Aviation Event
Silver Award for GEE@AIX2018
As a leading worldwide provider of in-flight entertainment, media content, technology, and connectivity solutions to the airline industry, Global Eagle Entertainment (GEE) considers this engaging, inviting, and wow-worthy exhibit experience a rare opportunity to highlight its unique capabilities to the leaders and decision makers within this niche environment. Engagement coupled with functionality were primary goals for the environment, with the overall look and feel taking flight, to showcase and demonstrate GEE's products. Gloriously curved, the hanging fabric signage is seen far and wide across the show floor.
Best Stand / Security Event
Silver Award for Trustwave @RSA2018
The Trustwave brand and identity conveys confidence, boldness and simplicity. It has evolved to represent a company that embraces both innovation and establishment—a trusted advisor that brings to light the possibility of threats around every corner—and the way Trustwave can clear away those threats and bring about a promising, bright future. When showing at the RSA, Trustwave had two main challenges – to design a robust exhibit experience that represented the highly sophisticated cybersecurity technology and services. With a sharp eye focused on strategic design to manage traffic flow, the exhibit environment and layout was fluid and inviting.
Best Stand / Energy Event
Bronze Award for Expro@OTC2018
Exhibitors typically have multiple objectives at any given show, ranging from lead generation to increased engagement and increased brand awareness. Such was the case with EXPRO, at the 2018 Offshore Technology Conference, and then some. EXPRO wanted to make a splash, maximizing its brand visibility, technological expertise at this all-important show. The overall objective was to deliver a unified look and feel, across nine very distinct and different business units. Above all, bar none, the most important mission for EXPRO's 2018 OTC experience was to have an engaging, innovative, and inviting environment that fostered interaction with their clients and customers, while celebrating the EXPRO brand.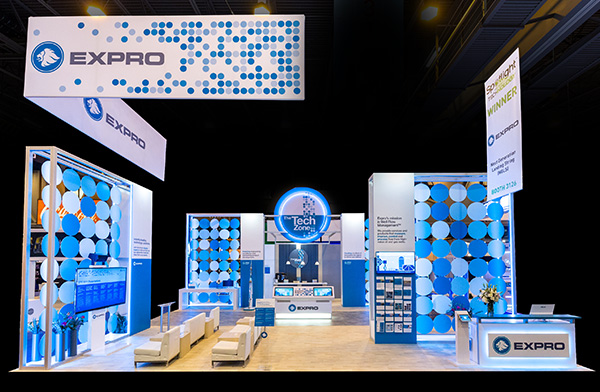 The World Exhibition Stand Awards represent design agencies across four continents, exhibitors in diverse event environments, internationally famous brand names to start-ups, powerful story-telling and innovative use of technology.
2020 Exhibits Director of Marketing Jeannette Sanders was delighted to receive the awards among so many deserving entries, in this first-ever round of the World Exhibition Stand Awards. "Receiving these awards is truly an honor. Our team works tirelessly to design and deliver exceptional experiences. And this work is representative of the bold, dynamic, and compelling creative and execution delivered by Team 2020 Exhibits. We are fortunate to work with clients like GEE, Trustwave, and Expro who really want to push creative boundaries. It means a great deal to earn accolades on this global stage," Sanders says.
About 2020 Exhibits
Headquartered in Houston, TX, with offices in Las Vegas and St. Louis, 2020 Exhibits provides total tradeshow and event management, including the design, fabrication and installation of tradeshow exhibits for clients locally, nationally and internationally. With a laser-sharp focus on the delivery of dynamic interactive experiences to build brand engagement, 2020 Exhibits proven expertise in the integration of custom rental exhibits and multi-screen, A/V rich environments helps global brands drive results. The Environments Division's Corporate Interiors and Signage Group delivers crisp and compelling ADA-Compliant and Architectural Signage; Multifamily Creative Sign and Environmental Sign Design; Sign Package Design, Fabrication and Installation Nationwide; Environmental & Wayfinding Signage along with robust Naming & Identity programs.
Since 1987, the company's award-winning team has worked collaboratively with clients to provide optimum exposure and offers the total event package of services and support including interactive technologies; lead capture; corporate events; conference exhibits; event management; audio visual and digital multimedia; in-house production and printing; experiential marketing; event furnishings; graphic and creative design; brand marketing communications; turnkey show logistics; turnkey show management along with warehousing and storage.