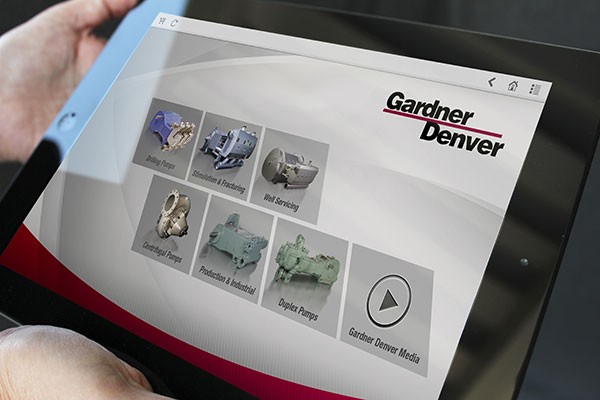 It almost goes without saying, event marketers and managers know the truism that preparing for a tradeshow requires focus and commitment. For most B2B sales, marketing and tradeshow managers, time is spent on the creative side of things – designing the trade show exhibiting, honing the theme and overall campaign strategy and building brand interest and engagement. More than two-thirds of marketing and trade show professionals consider in-person or tradeshow events as one of the most effective ways to drive home brand messaging and reach key objectives. And of these key objectives, Lead Management and Program Management also require careful consideration. For Gardner Denver, capturing the attention of key clients and prospects in a sea of more than 2,500 exhibitors was one of the many critical objectives at the 2014 Offshore Technology Conference (OTC). With their massive 14.5-by-27-feet-wide and 4.3-feet-deep project mapping taking center stage and generating record-breaking buzz across the show floor — that mission was accomplished.
Equally important for Gardner Denver; however, was to find a way to engage visitors, while capturing quality, proven leads. Because as every trade show manager and marketer knows, capturing quality qualified leads is the lifeblood of any successful exhibiting experience and program.
For Gardner Denver, 2020 Exhibits Media Suite app for iPad provides the ideal solution. Offering real—time lead data and analytics, Media Suite provided Gardner Denver with real-time sales and business intelligence to identify and qualify the best leads so to drive the sales process forward. For capturing and leveraging key data, the Gardner Denver team used their Media Suite app for iPads to open the door and connect with the right prospects. Best of all, Media Suite for iPad gave the Gardner Denver team the benefit of speed and immediacy. With the Media Station app for iPads, Gardner Denver easily captured leads received, integrating this key information into their CRM system. Gardner Denver's With their Media Station's analytics Gardner Denver's team produced reports based on aver time spent per attendee, plus their click-through rate for each piece of literature viewed through the app. Right from the show floor, their sales teams could see and measure the level of interest and true product focus for more targeted lead nurturing and follow up.
PREVIOUS POST
NEXT POST