Start spreading the news! 2020 Exhibits is thrilled to announce that Team 2020 Exhibits won nine ADDY Awards at the 2019 American Advertising Federation's ADDY Awards in Houston. The ADDY Awards are the advertising industry's largest awards competition. The event features lively competition from a variety of entrants, including advertising, marketing, business, and design professionals. The team proudly is honored to receive recognition for our work, winning Bronze and Silver ADDY across six categories, including Out-of-Home Installation(s) for trade show exhibits and inspiring environments, Public Service Marketing, Speciality Advertising, and Events, on behalf of clients the Houston Texans, Alteryx, EXPRO, and Redeemed Ministries.
"This is an honor shared by the entire 2020 Exhibits team," said Bob Babine, president of 2020 Exhibits. "Ours is an amazingly talented group, and we're proud of the world-class creative and innovative work they produce on behalf of our esteemed clients."
HOUSTON TEXANS – Welcome / Reception
Silver Addy – Out of Home / Installation category
As a warm Texan-sized welcome and invitation to experience the Texans, 2020 Exhibits helped the Texans further connect current and future players, guests, fans, and the Corporate Team to the rich history, dynamic present, and exciting future of one of the National Football League's most remarkable programs. The experience begins at once, at the swooping, curved desk immediately seen by visitors as they enter the reception area are greeted with backlit Texans logo, framed by a custom designed and printed emotional graphic wallpaper image of the Texans' in game day action.
HOUSTON TEXANS – HQ Refresh
Bronze Addy – Out of Home / Installation category
Informed by a deep understanding of the Texans' spirit, drive and mission combined with creativity and insight, 2020 Exhibits' design is infused with the vibrant high-energy expertise and experience that is the Texans. Championing the Texans' mission to win championships, create memorable experiences and do great things for Houston, this remarkable headquarters is a sophisticated, timeless space that seamlessly blends purpose and place to showcase the powerful story of the space as a destination experience that visitors, employees, and team members alike will want to admire, celebrate, and share, with an elevated sense of pride and place.
Alteryx
Silver Addy in the Out of Home / Multiple / Installation category
A leader in self-service data analytics, the Alteryx Tableau exhibit experience is cutting-edge, bold, and brilliant creative at its finest. Vibrant and inspiring, this space is engaging and inviting, as it celebrates key traits of the Alteryx brand.
EXPRO @ OTC2018
Bronze Addy in the Out of Home / Multiple / Installation category
The bold EXPRO brand's iconic circle is used to create private yet open lines of demarcation in an almost layered effect. The open, expansive concept design features engaging touchscreens strategically placed throughout the space which made for an engaging experience.
FedEx "All the Wheels" Feature Wall
Silver Addy in the Out of Home / Installation category
This is an environment where the simple appears complex and the complex appears simple. How often do you actually consider the number of miles traveled and by the variety of vehicles that are part of the massive FedEx delivery fleet? While not a typical consideration, it is indeed the idea, inspiration, and design concept that was shared with Team 2020 Exhibits as they worked with creative and design architect Gensler to fabricate and install these extraordinary wheels for the FedEx corporate HQ in Memphis.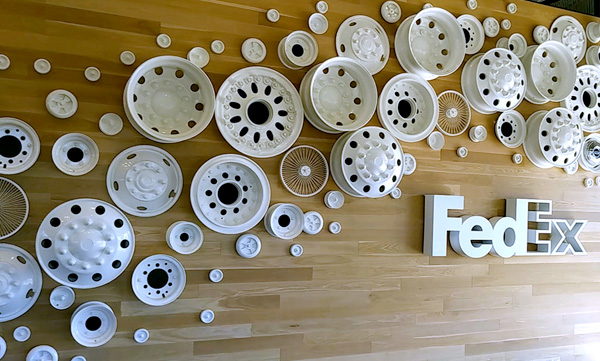 Keep Houston Free
Silver Addy in the Public Service
Silver Addy in the Illustration Series category
Bronze Addy in the Specialty Advertising / Lapel Pin
Bronze Addy in the Public Service Marketing Campaign
Carrying forward the energy and intent of that special evening is vitally important. The Gala's message, to Keep Houston, and more subtly, the sparrows of Redeemed Ministries, Free is central to and at the heart of the event. This sparrow illustration beautifully unifies all campaign and event elements, seamless and effortlessly. No stone was left unturned at the Keep Houston Free Gala '18 ~ Custom-designed enamel Sparrow lapel pins, with wings raised as if in flight, were pinned to custom-designed plex-laminate packaging, which carried The Keep Houston Free branding and messaging. These 4" x 4" curved-edge designs are keepsake placeholders, framing the Keep Houston Free message and the delicate sparrow, and they can be kept for years on end.
About 2020 Exhibits
Headquartered in Houston, TX, with offices in Las Vegas and St. Louis, 2020 Exhibits provides total tradeshow and event management, including the design, fabrication and installation of tradeshow exhibits for clients locally, nationally and internationally. With a laser-sharp focus on the delivery of dynamic interactive experiences to build brand engagement, 2020 Exhibits proven expertise in the integration of custom rental exhibits and multi-screen, A/V rich environments helps global brands drive results. The Environments Division's Corporate Interiors and Signage Group delivers crisp and compelling ADA-Compliant and Architectural Signage; Multifamily Creative Sign and Environmental Sign Design; Sign Package Design, Fabrication and Installation Nationwide; Environmental & Wayfinding Signage along with robust Naming & Identity programs.
Since 1987, the company's award-winning team has worked collaboratively with clients to provide optimum exposure and offers the total event package of services and support including interactive technologies; lead capture; corporate events; conference exhibits; event management; audio visual and digital multimedia; in-house production and printing; experiential marketing; event furnishings; graphic and creative design; brand marketing communications; turnkey show logistics; turnkey show management along with warehousing and storage.